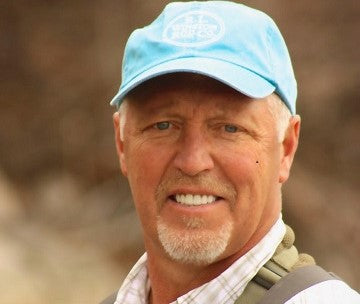 in Artist Comments
Scott Christensen
Born in 1962, Christensen grew up in Lander, Wyoming, a place of extreme geography and wild beauty. There his aesthetic developed. It was not until college, however, that he would recognize nature as his muse. The shift was precipitated by a personal catastrophe. While attending Chardon State in Nebraska on a football scholarship he sustained a severe neck injury that left him unable to compete. Bereft, he sought solace in fly fishing and visiting his grandfather, a wheelchair-bound amateur oil painter. The scent of oils stirred Christensen's imagination, so he took a leap into the unknown and enrolled in art classes. Over the years he has pursued painting with the discipline he once brought to sports. The atypical combination of athleticism, scholarly curiosity, and an ardent desire to experience nature became the alchemy of his success. After nearly three decades at the easel, Christensen is recognized around the globe, as evidenced by his invitation to show in Russia's Ilya Repin St. Petersburg State Academic Institute for Painting, Sculpture, and Architecture.
Christensen now paints at the highest level and he has created a world to foster his work.
Christensen's goal is to compose an aggregate vision of nature's beauty, while also delighting in the journey. "The process alone," he says, "is worth the effort."  His energy flows through his work, paintings that, in turn, move us, opening our eyes to the beauty of places as varied as the California coast at twilight, and the storied English countryside. They are luscious yet economical landscapes that beg to be explored.
Meditate on a Christensen landscape, just as he did the place that inspired it. If it resonates with you, then he has succeeded as a conduit of nature's true expression. He hopes that you too will get outside and be uplifted by nature's beauty, but in lieu of that, his paintings will more than suffice.
 - Seonaid B. Campbell
To read more about Scott Christensen visit:
Art Instruction with Scott